Kansas University has been producing sports legends for more than 100 years. Some of those favorites include Wilt Chamberlin, Danny Manning, Gale Sayers and Mario Chalmers. If you are a fan of Kansas University, and you want to hold on to a piece of that amazing sports history forever, find a great selection of Kansas University sports memorabilia at Framewoods Gallery.
For Kansas University Jayhawk fans, we offer hundreds of memorabilia options. Whether you attended Kansas University for years or just love watching their games, we can help you find the perfect sports memorabilia items to keep those memories alive forever. We offer Kansas University Jayhawk posters, prints, photos and sculptures for you or your loved ones, whether to expand your collection or as a gift for the die-hard fan in your life.
Our Kansas University sports memorabilia items make great gifts to friends and family members of any age. You can also choose from our authentic autographed sports items signed by Kansas University's most famous basketball and football legends. Plus, for those who may not be die-hard sports fans, we also offer great Kansas University gifts to celebrate a recent or not-so-recent university graduate, giving them a wonderful keepsake of their collegiate alma mater.
From figurines to footballs, we've got it all! To find out more about any product, help finding that rare signature or to inquire about a specific item's availability, call us at today at 1-800-399-5199 or stop by and see us at 819 Massachusetts Street in Lawrence, Kansas.
Since its founding in 1865, Kansas University has grown to become the premier university of the Midwest. Kansas University has a rich academic and athletic history, especially on the hardwood.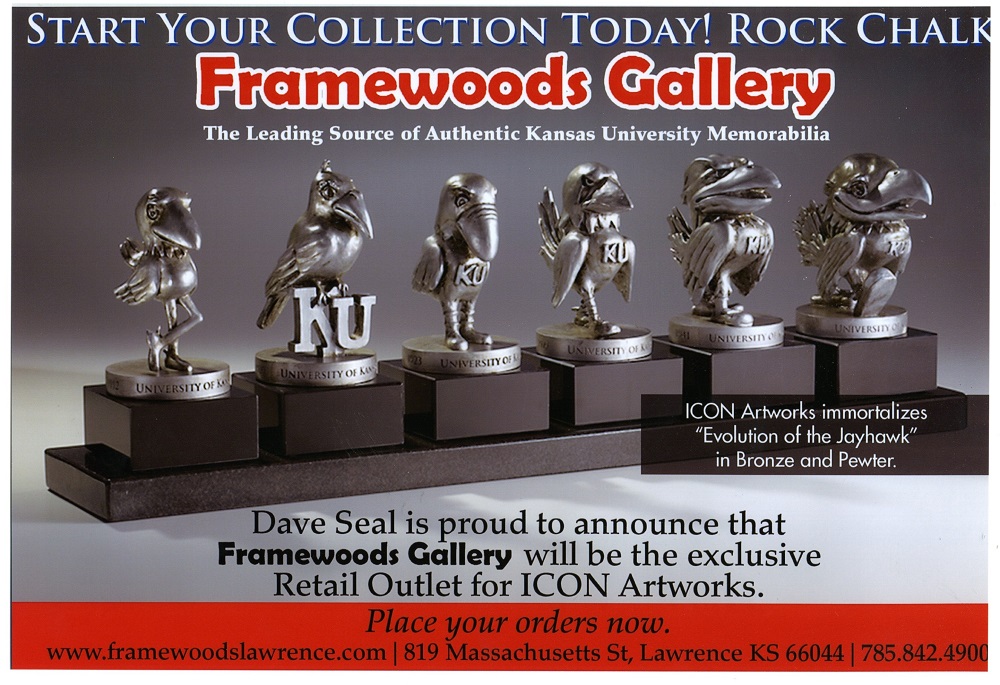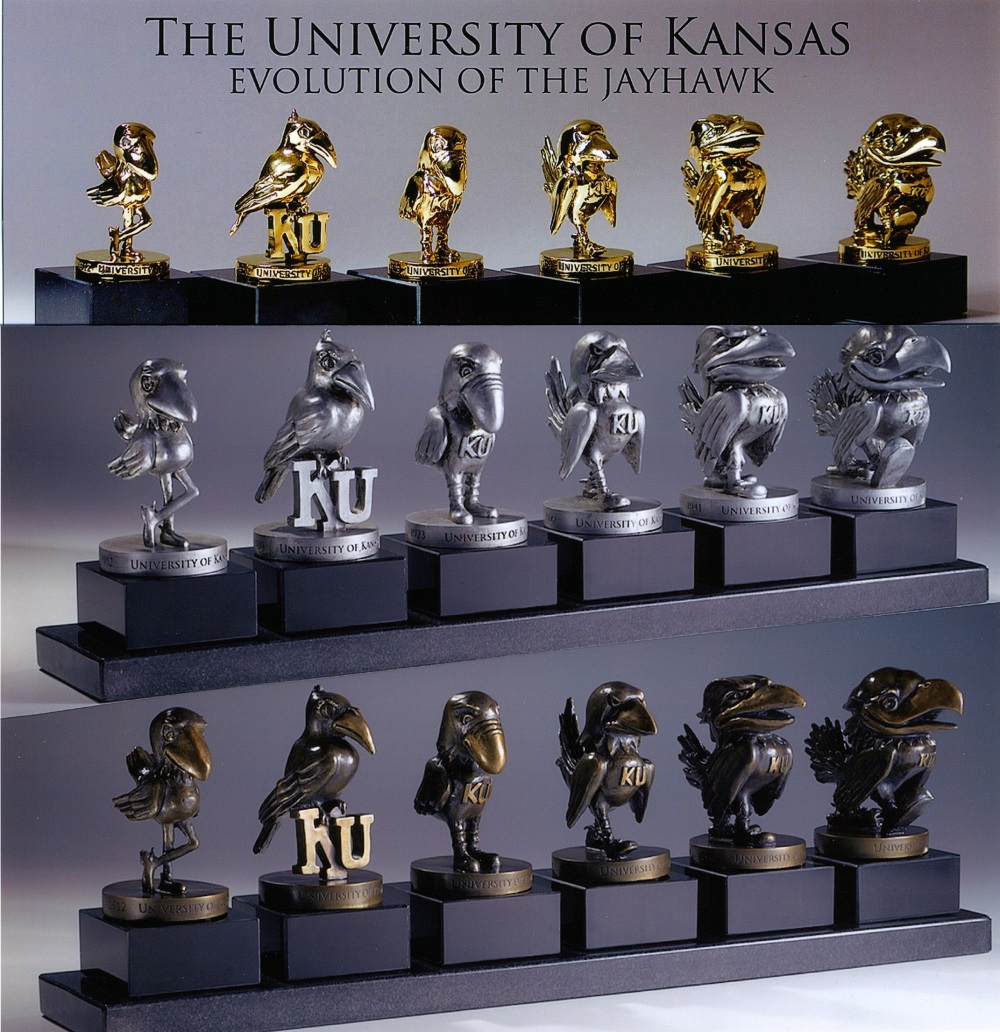 As such, there is consistent demand for KU-related items, especially items that celebrate the college's storied past. Framewoods Gallery sells a diverse collection of Kansas University sports memorabilia, including collectible Jayhawk bronze statues, artwork, posters and signed and unsigned prints from Kansas legends, such as Wilt Chamberlin, Danny Manning, Gale Sayers and Mario Chalmers, among others.
Of course, Kansas' own Dr. James Naismith invented the game of basketball, and we have memorabilia that celebrates the embryonic stages of the game we love, as well as other items that commemorate the many prominent coaches that called Lawrence home for a large portion of their career.
That said, if you're passionate about Kansas University, but you're not a rabid sports fan, we still inventory plenty of items that may pique your interest. We have paintings and prints available from renowned artists such as John Onion that capture the beauty and spirit of one of America's famous collegiate institutions. As well, we feature work from the inimitable Howard Terpning, whose Native and Western pieces have earned him many awards.
And of course, if you're simply looking for an item or a collectible that features a neat rendition of KU's famous Jayhawk, then you've come to the right place. We have countless options, including a vast selection of George Knotts' antique bronze statues, which we both buy and sell. For more information about the bronze collectibles, check out this site.
Ultimately, regardless of the types of KU items you're searching for, we strive to have something in stock for everyone's needs. If you have any questions about the items we sell, or if you'd like help finding the right collectible for your needs, then please contact us today.
Order any of the "Evolution of the Jayhawk"  and get free shipping.   Please call for get this offer on any of the "Evolutions"  available ,  single or the sets.
Visit Framewoods at 819 Massachusetts,  when you come to Lawrence for a visit or come to a game.  Call, if you are window shopping and we are closed.  We will make arrangements to be OPEN for you. 1-800-399-5199 day number. Leave a message.
Save