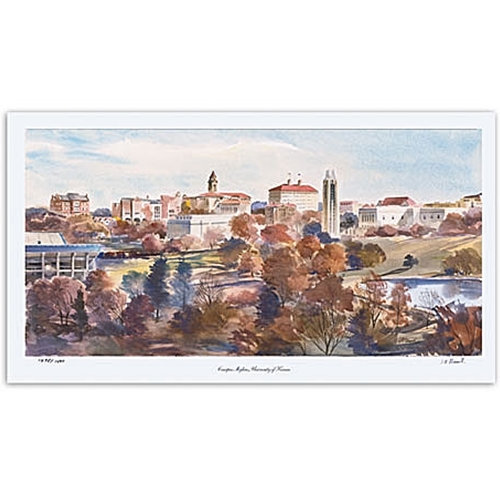 At Framewoods Gallery, we're known for Kansas University memorabilia and more. We love the school and its teams. How can you not love a school that has produced some of the best sports legends of the past 100 years or so? From Wilt Chamberlain to Danny Manning, and Gale Sayers to Mario Chalmers, Kansas University, aka "KU," is a remarkable place!
What are some interesting facts about KU?
For starters, KU was founded way back in 1865, which is long before cell phones, the Internet, or even motor vehicles! Today, KU is one of the premier schools in the Midwestern United States, with students coming from over 100 countries. So, if you were in school right now, chances are you'd meet students from both near and far– native Kansans, along with students from countries around the world. Indeed, KU brings the world to Kansas, and helps make it a more cosmopolitan, diverse place.
Once students start attending KU, what do they major in? Well, at KU they can pick from more than 200 fields of study. Let that sink in… most schools have a dozen or maybe two dozen fields of study, while KU offers more than 200! Add to that the opportunity for more than 345 degree programs, and you have alitany of opitons, from liberal arts to business to science and then some.
KU graduates change the world. Did you know, for example, the scientist who discovered vitamins A and D graduated from KU? Nice! Other graduates have gone on to do great things as well, such as co-developing a hepatitis B vaccine, chairing a $3.1 billion consumer goods company in India, and going into outer space. KU has produced three astronauts. Is it any wonder that more than 10,000 companies partner with KU? And there are about 60 alumni chapters worldwide. This school is a big deal.
Brain power is big at KU, with over 425 Fulbright Award winners and 25+ Rhodes Scholars.
On campus, students can choose from about 600 organizations and clubs. And in the town of Lawrence, where KU is located, there are over 1,000 dining and shopping options, so this isn't some sleepy college town. Indeed, it's alive and bustling with all sorts of people from all sorts of places studying all sorts of things.
When people want KU memorabilia, they come to Framewoods Gallery, located at 819 Massachusetts St. in Lawrence, KS. Call 800-399-5199 for more info.