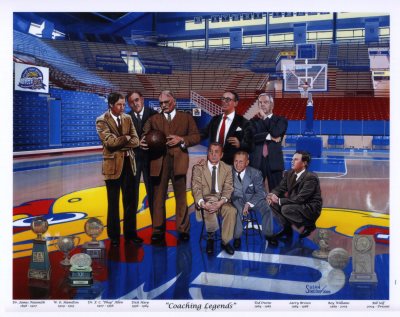 At Framewoods Gallery in Lawrence, Kansas, we follow KU's teams since we deal with KU memorabilia and Kansas University framing needs. So how's the school's basketball team doing? How are they going to defend their national championship?
Hopefully the Jayhawks will be a Top 10 team next season, but there are some questions to think about before the season officially starts.
Starting 5
How's the 5? They could use Zach Clemence in that position. If he can be more physical than in the past, and defend both the interior and perimeter, he'd be a good choice for the 5. If it's not him, though, Ernest Udeh or Zuby Ejiofor show potential.
Coach Self has praised Bobby Pettiford, calling him the next great guard at Kansas. Will he live up to the hype? If he gets/stays healthy, he could do the job and do it well during his sophomore season with the team.
Freshman Guards
As for freshman guards, do you think MJ Rice or Gradey Dick will shine next season? Rice is tall and strong, and if he's got Jalen Wilson helping him out as a guard, he has the potential to be a bucket getter. That said, Dick's got a great shooting ability– seems he can get shots off over pretty much anybody! These two athletes show great promise for the Jayhawks.
Versatility
Where will Bill Self put McCullar? He's a versatile player, so he could be a 2, 3 or 4 player. If Self puts him at 3, that would probably make the most sense. McCullar has got the kind of athleticism and toughness to handle different positions for the team.
Finally, there's Martin, a veteran, who is a bit of a question mark at this point. He could do well at the 5 depending on how well he defends the perimeter.
Framewoods Gallery is excited about the upcoming Kansas basketball season. If you'd like to get some KU Jayhawks memorabilia, stop in at Framewoods Gallery at 819 Massachusetts St. in Lawrence, KS, or call 785-842-4900 to talk with someone about what Framewoods can do for you!