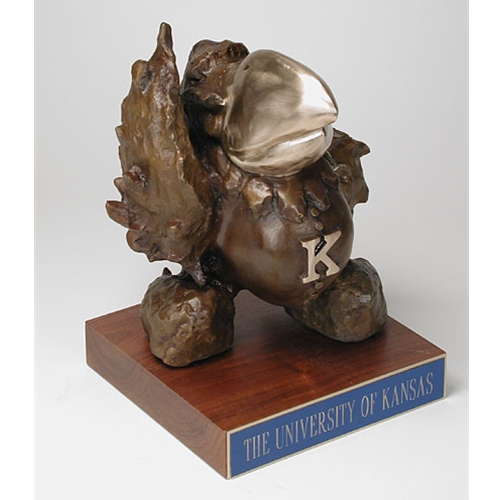 Framewoods Gallery is in Lawrence, Kansas. Lawrence is the sixth-largest city in Kansas, located in the northeastern part of the state, between the Kansas and Wakarusa Rivers. It's a college town, primarily known for Kansas University and its top-notch sports teams. There are almost 100,000 people in Lawrence, Kansas, these days.
Lawrence was founded as a center of free-state politics back in the 1800s. The University of Kansas (aka KU), founded in 1865, was a key part of its growth and development. Did you know the first classes at KU were held on September 12, 1866?
From the start of classes until 1872, North College was KU's only building.Then, on December 2, 1872, the "the New Building," now remembered as "Old Fraser," opened at the site where Fraser Hall currently stands. Ever wonder where Fraser Hall got its name? General John Fraser was elected KU's second chancellor in 1867, and now he has a building named after him.
If you were a student back in this 1860s/1870s era, it would cost you $30 per year for college classes and $10 per year for college prep classes. Compared to today? What a bargain!
At the start, KU only had three faculty members. They made $1,600 per year.
The first fraternity at KU was the Alpha Nu chapter of Beta Theta Pi, with its first initiation in 1873. That was the year the university held its first commencement, with four graduates.
Today the University of Kansas is the state's flagship university and one of just 66 invited members of the prestigious Association of American Universities (AAU). The school's sports teams, known as the Jayhawks, are nationally known and respected, for their years of winning games and showcasing young talent that later go on to play professional sports.
Remember how KU started with 4 graduates in 1873? Today there are more than 350,000 alumni worldwide! And where's the best place to get KU memorabilia in Lawrence, KS? Go to Framewoods Gallery at 819 Massachusetts Street; Call 1-800-399-5199 for info.