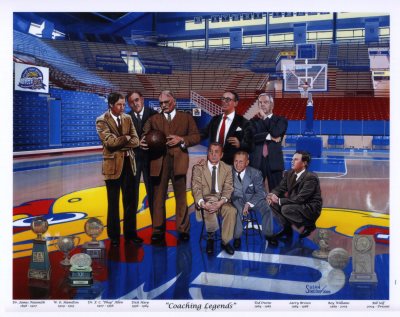 Kansas University is fortunate to have Bill Self as a head coach. Rather than bore you with statistics, here's what you need to know: as head coach, he has had a winning record. And, he's fairly young– in fact, in 2020, he became the second-youngest coach to claim 700 NCAA Division I victories, so that's a good thing because he's got plenty of years of more winning games ahead!
Bill Self at Kansas
Named head coach for Kansas University basketball in 2003, Bill Self has helped coach the team to a national championship win, as well as 15 regular-season Big 12 titles, and eight league tournament championships. When the team plays at the Allen Fieldhouse on campus, they win the game most of the time… and this makes for exciting times in Lawrence, Kansas, where fans love to watch great basketball games where their team wins!
Self has helped coach basketballers that went on to play in the NBA. He has also helped Kansas University have several straight-win seasons and plenty of top conference finishes. His coaching leads to lots of team wins… he's only trailing former coach Phog Allen in total number of wins, and may surpass Allen's 590 wins record in the years to come.
Has he won plenty of awards? You bet. Has he led a KU based team representing the USA in the World University Games? Yep. And did he get his start as a basketball player? Indeed. He played basketball at Oklahoma State back in the 1980s. From player to coach, Bill Self knows a thing or two about winning basketball games.
Framewoods Gallery sells a coaching legends print signed by Bill Self here. Get this piece of autographed Kansas University memorabilia to proudly display on the walls of your home or office.