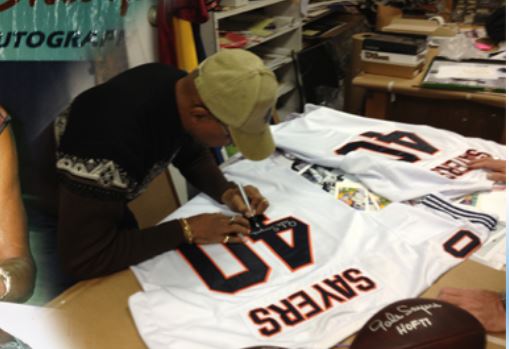 Sports memorabilia collecting hasn't been around that long… the first collectibles were from the early 20th century when baseball fans would collect balls from the games they'd attend. Fans would then seek out players, asking them to autograph the baseballs. In the 1980s, the four major professional leagues in the U.S. started selling jerseys in retail stores– and autographed jerseys became a popular collectible.
People buy sports memorabilia in order to remember great players, great games, and great sports in general. In recent years, the sports memorabilia industry has had a global market value of $370 billion, with over 200 million active collectors in the world today.
Interestingly, there's no organization that protects buyers from buying non-authentic memorabilia. Many consumers have been duped out of their hard-earned money from unscrupulous sellers at places like flea markets.
Research
So how can you tell if sports memorabilia is real or fake? For starters, knowledge is power. You should do research on the item or items you're interested in– studying the market and the dealers involved. Buy from respected and reputable dealers who've gotten positive reviews both online and in real life. Look for "authenticity guarantees" as well as certificates that support authentication.
Proof of Authenticity
For signed items, it's best if you can witness the actual person signing the piece of memorabilia in person. Take photos of the moment. Then you have proof of authenticity because you saw it with your own eyes and took photos to capture the moment. In some cases, signed memorabilia will come with photos of the moment it was signed and/or paperwork that indicates it's the "real deal."
Finding Honest Sellers
When dealing with sellers, if they withhold info from you, don't trust them. They should be open and honest with you, and answer your questions. If they seem like they're lying to you, they probably are. If something seems too good to be true, it probably is. Think with your head more than your heart– don't let emotions push you into buying an expensive item that "might" be real.
Looking for authentic Kansas University memorabilia? Call Framewoods Gallery of Lawrence, Kansas, at 800-399-5199 and/or see the full inventory here.