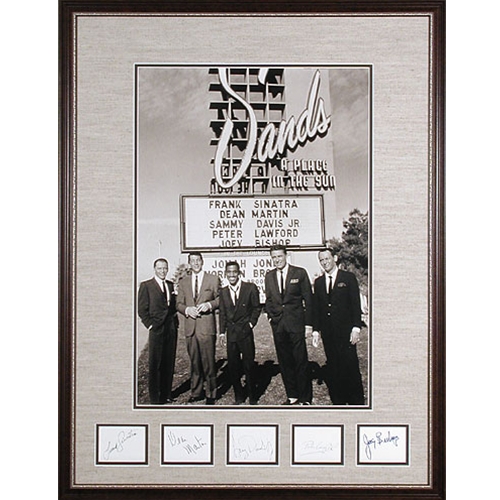 Remember "The Rat Pack?" It was the name given to a group of actors/singers who hung out together as a group, most known for their shows at the Sands Hotel and Casino in Las Vegas where they showed off their swagger, camaraderie and antics to adoring crowds. The Rat Pack consisted of Frank Sinatra (who played a concert at Lawrence, KS, in the 1940s!), Dean Martin, Sammy Davis Jr., Peter Lawford and Joey Bishop.
Actress Lauren Bacall gave them the name The Rat Pack, as the group got its start at Humphrey Bogart's house in California, where several actors (and singers) would meet up to hang out and Bacall thought they looked like rats. Interestingly, the group of 5 guys known as The Rat Pack never called themselves that– and Sinatra, for instance, HATED the name. They called themselves "the Clan" or "the Summit." However, the media referred to them as The Rat Pack, and that name certainly stuck.
Sinatra and his pals helped transform Las Vegas into an entertainment destination– a distinction it still holds today. The Rat Pack headlined at the seventh resort to open on the fabled Vegas strip– the Sands Hotel and Casino. Tourists flocked there to see their beloved stars live and in-person. Other acts like Elvis Presley and Liberace also helped make Las Vegas famous as a tourist destination, too.
Well, in 1960, the movie Ocean's 11 made its debut, and this film showcased The Rat Pack. It also showed off Las Vegas. The plot involved pulling off a heist of robbing five casinos. The movie's final scene showed The Rat Pack walking away from the Sands Hotel, with the headliners listed on the marquee. This movie put The Rat Pack on the map!
Today, Framewoods Gallery in Lawrence, KS, has an autographed Rat Pack photo showing that famous scene, and each member's authentic signature! For $1,500, it can be yours!