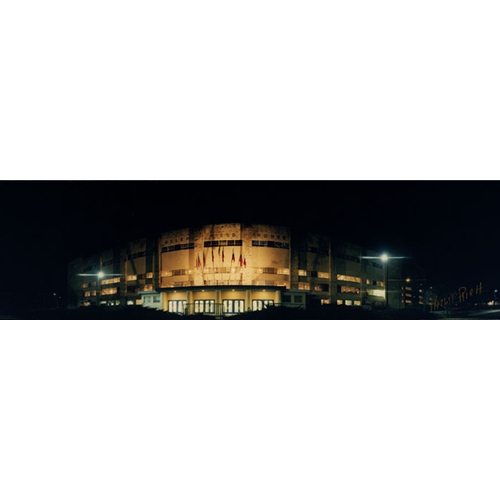 For over 60 years, the University of Kansas Jayhawks have played at the Allen Fieldhouse in Lawrence, Kansas. The hallowed venue has become one of college basketball's most historically significant and prestigious buildings. It has hosted more than three dozen NCAA tournament games over the years.
More Than Just a Basketball Venue
Besides sports, the Fieldhouse has been used for concerts by the likes of Tina Turner, Harry Belafonte, Elton John, The Beach Boys and many others over the years. That said, it's primarily known for college basketball.
Before Allen Fieldhouse
Therefore, what did the Jayhawks team use before Allen Fieldhouse? There was Hoch Auditorium. It had 3,800 seats but was too small– especially when the school grew to 9,000 students.
Around 1952, construction started on the Allen Fieldhouse so the Jayhawks could have newer, nicer facilities with more seating to better accommodate crowds. The Korean War hampered construction as steel was hard to come by, but eventually the Allen Fieldhouse got completed in 1955. Interesting fact: 1955 was Wilt Chamberlain's first year at the University of Kansas.
The Great Phog Allen
Readers of the University Daily Kansan voted on the name of the arena, and Phog Allen's name eventually won. Allen was a legendary basketball coach at the University of Kansas from 1907-1909 and 1919-1956.
The first game held at the Allen Fieldhouse saw Kansas beat Kansas State 77 to 66.
Since the 1950s, Allen Fieldhouse has grown in size. Hundreds more seats were added during renovations in the 1980s and 1990s, such that today's capacity is about 16,300. More recently, in 2009, renovations included the addition of an indoor practice court as well as new locker rooms, clubhouses, lounges and offices.
Allen Fieldhouse is the kind of place that matters to a lot of people, especially Jayhawks fans. It's the place where their team plays… and wins a great percentage of games.
Would you like to hang a great picture of the Allen Fieldhouse in your home or office? Framewoods Gallery has both an unframed and framed option available right here.