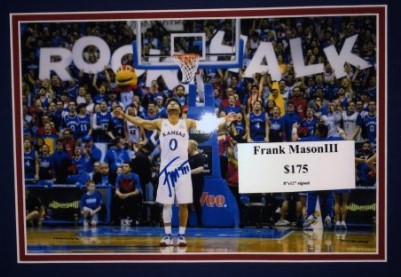 Many players come through a college basketball program, but few have the impact and charisma to leave an indelible mark that turns them into legends. While Kansas basketball has had the good fortune of having myriad talented players come through the doors, it's not always the most skilled ones who leave the biggest mark. Once such modern example is Frank Mason. Here's why he is a Jayhawk legend.
Frank Mason Won a Ton of Individual Awards
During his stellar 4-year career, Mason was the consensus National College Player of the Year winner in 2017. Also during that unforgettable season, he won the Bob Cousy Award (given to the top point guard), the Naismith Award and the Oscar Robertson Award while also being name a First-Team All-American and the Big 12 Player of the Year. Amazingly, he never even played point guard until he got to Kansas, and asked the coaching staff to teach him the position.
Frank Mason's Teams Won…A Lot
There's an old saying about point guards: "the only stat that matters for point guards is did your team win or lose.'' When Mason was in the program, Kansas won an incredible 116 games, multiple Big 12 Titles and had many NCAA Tournament victories.
Frank Mason Was a Great Ambassador to the Program
Mason embodied everything that is great about college basketball; his skills developed each year, along with his leadership and personality. He matured from a quiet freshman to a floor general who set the tone for the team and became the face of the Jayhawk program.
Frank Mason Memorabilia
If you're looking for collectible Frank Mason memorabilia, then Framewoods Gallery in Lawrence, KS is the place to go. We have a variety of options, including limited signed photos. For more information, contact us today.